Agenda

Sept 2013
2013 International Consulting Leaders Forum
"The World Ahead: Understanding the Opportunities and Risks in Global Markets"
By Invitation Only
Click here to reserve a seat

Date and Time:
Tuesday, September 10, 2013
8:30am - 2:30pm Paris time
Lunch will be served

Location:
Deloitte
185, avenue Charles de Gaulle
92 220 NEUILLY SUR SEINE
Paris
Click here for a map and directions
Join AMCF's Board of Directors and Board Members from the associations representing Germany, the UK, France, Denmark, Norway, Spain and Italy for this unique and timely international forum.
Momentum is building in the world economy and the consulting industry is positioned for growth. In the not-so-recent past and in the midst of rethinking the "norm", we were immediately forced to dive into the "new normal". We have challenged our capacities to be nimble, to run our businesses more efficiently and to stay ahead of the curve in delivering innovative, effective and sustainable solutions for our clients in this rapidly changing world. We must be well informed and able to take calculated risks with an understanding of many markets- some new, some redefined. We must ask ourselves: 'What will define the world ahead and how will this impact the management consulting industry?'

This unique forum will bring together consulting leaders from around the world to share market insights including:
Prospects for consulting in emerging and growing markets

What clients expect of 21st century consulting

The contribution of consulting to economic growth and healthy societies

Challenges in the government and public sectors
Don't miss this opportunity to understand the critical issues that keep our clients up at night and to learn from peers how the management consulting industry will become even more relevant in the years to come.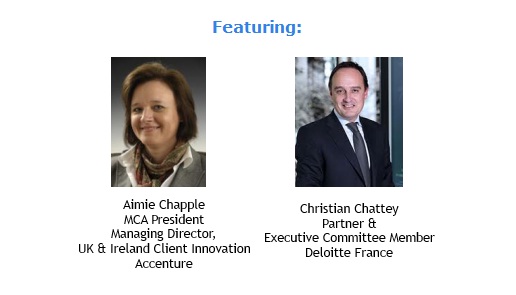 (click here for a full list of speakers)
Program Fees:
AMCF Members: $195.00 USD
Non-Members: $295.00 USD
Lunch will be served


*Recommended hotel:
Paris-Neuilly Hotel
199 avenue Charles de Gaulle
92 220 Neuilly sur Sein
+33 1 47 47 14 67
www.hotel-paris-neuilly.com
Click here for directions to the recommended hotel and Deloitte's offices




If this document does show up properly, click here to open the right page :


https://netforum.avectra.com/eweb/DynamicPage.aspx?Site=AMCF&WebCode=EventDetail&evt_key=f49235e5-719f-4ae9-9118-4634b23ad6d8
Or click here to access to the AMCF website : http://www.amcf.org